Presence
IRL Gallery, Cincinnati, Ohio
February 2 - February 23, 2018
Presence is a collection of works that contemplate the connection between bodies across multiple platforms. Each piece is an attempt at intimacy in the form of limited reception, reaching for a fantasy that clips when grasped. What results is an investigation of game-space, faux-medievalism, and a solitudinous performativity for the screen.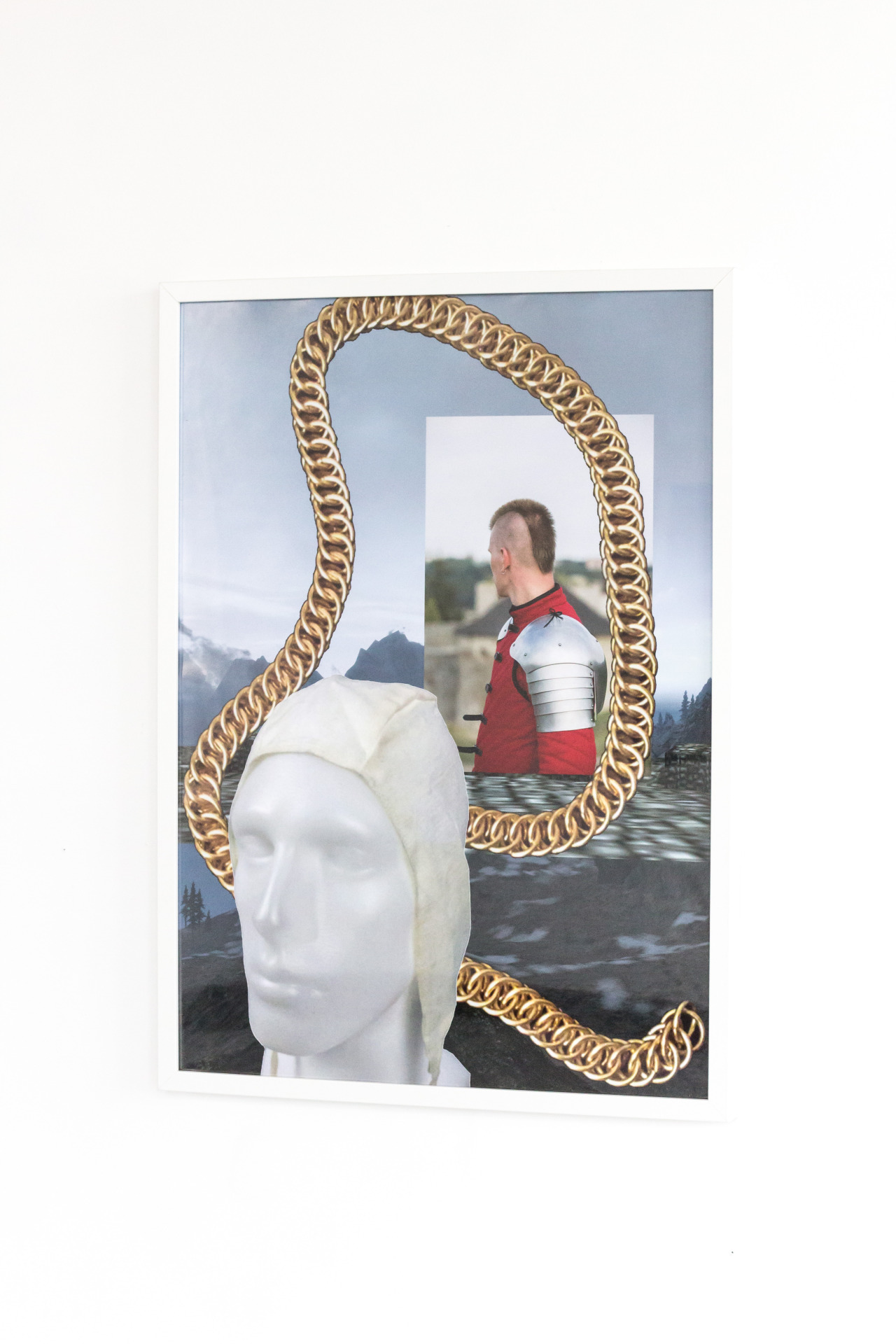 Untitled Portrait 2 (2018)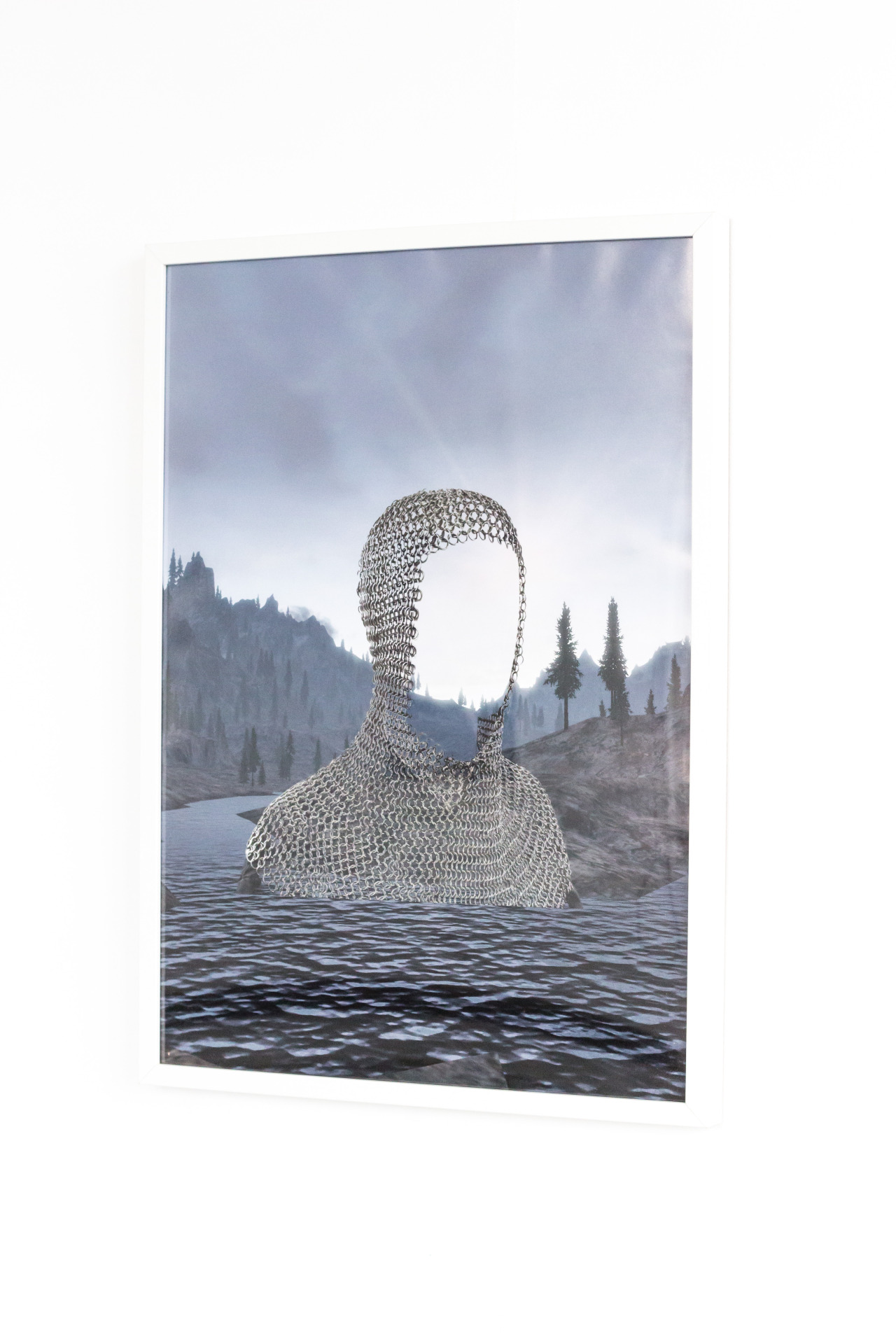 Untitled Portrait 4 (2018)
Bluescreen Painting (an inverted position: the movements of my body are unidentified and inaccessible) (2018)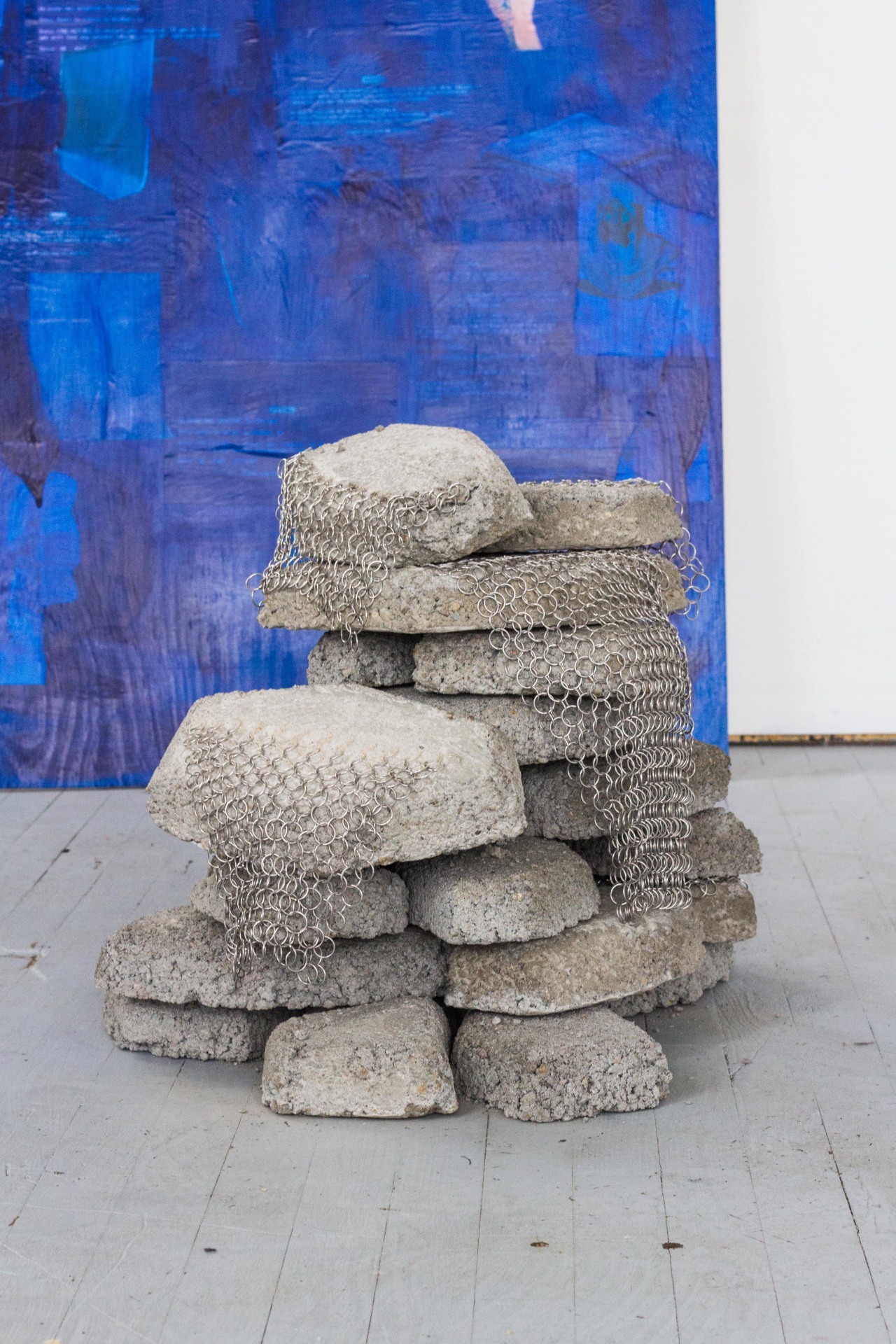 clipping masks 1-12 (2018)
Intimacy Mod (2018)
Lineage (2018) VR installation
Script from Lineage, derived from fantasynamegenerator.com:
"From Myzyd, Redeemer Of Men, Anfroi the Kind, son of Hardegin the Undefeated; from Blavier of the Lake, Sanson the Patroller, son of Carac the Selfish; from Gabryell the Fearless, Clerebald the Prodigy, son of Wichard of the Night; from Tibbott the Gentleman, Bricot the Gladiator, son of Triston the Dreamer; from Azorius the Mighty, Kheron Hardflayer, son of Hesdroth Runeaxe; from Richard the Wolf, Chomrag, Icebreath, son of Chyteicrias, The Life Giver; from Humfrye the Swift, Jatdrol Grumblebrand, son of Brom the Yellow; from Bertrand the Hungry, Nicholas the Deviant, son of Galeren the Dragonheart; from Ran the Gorgeous, Cristall of the Night, son of Barnabe the Weak; from Serell the Shield, Londoun Bitterguard, son of Gefroy of the Fall; from Dozaic Grimsword, Tizzid, The Black, son of Pandad The Champion; from Fjordra The Barbarian, Gorgol Ember finger, son of Gang-roick Why vern head; from Brolgid Snow shield, Aunger the Muscle son of Ruran Mithril-cloak; from Bernardus the Smile, Gylbard the Friendly, son of Tankred of the North; from Geoffrei the Relentless, Fike-hum Longrock, son of Strorgrar Earthbrand; from Zedre the Careful, Houbruck Shadowmaker, son of Dwodomli Broad sword; from Doomduk Lava thane, Hugue of the Forest, son of Grounatir Krag delver; from Hadgrouth Forgehide, Elrgarlug Bronzestone, son of Memroot, The Redeemer; from Yve the Brute, Jemrig, The Taker Of Life son of Dooddac Redhand; from Gyrren, The Warm, Krossock Lava granite, son of Grulrir, Lord Of The White; from Jokrak Greatshoulder, Orycrenth, Protector Of Life, son of Jacke of the Nightfall; from Renfrey the Agile, Ouen the Outsider, son of Belin the Warrior; from Richal the Courteous, Deefraet Noble bane, son of Owayne the Truthful; from Reirbumir Silverhand, Khumunli Earth spine, son of Korsouth Kraghand; from Nodeoniass, The Chosen, Thav rorlim of Night, son of Tardiss, The Fast One; from Weravec Beastbrew, Grorfoug Darkstone, son of Kannit, The Tall; from Hefem Flint delver, Gondyr, Rabbit Slayer, son of Assouk Ember digger; from Mullridy, Protector Of Creatures, Umin-grouc Blunt brow, son of Then marlum Brick-heart; from Khurmik Darkfinger, Resien, The Firestarter, son of Purvus, Champion Of Men; from Grondear Goldenbrand, Baness, Gentle Mind, son of Jasce the Orange; from Pirrodanth, The Magnificent, Isaac the Traitor, son of You vrouin the Yellow; from Khebaec Plate-chin, Grirra-cram, The Strong Minded, son of Dalotrat Jade Master."